Faure Herman invests in new calibration facilities
Written by Sébastien Marchais, Metrology Manager at Faure Herman
Published on 2021-05-25 & Updated on 2022-05-20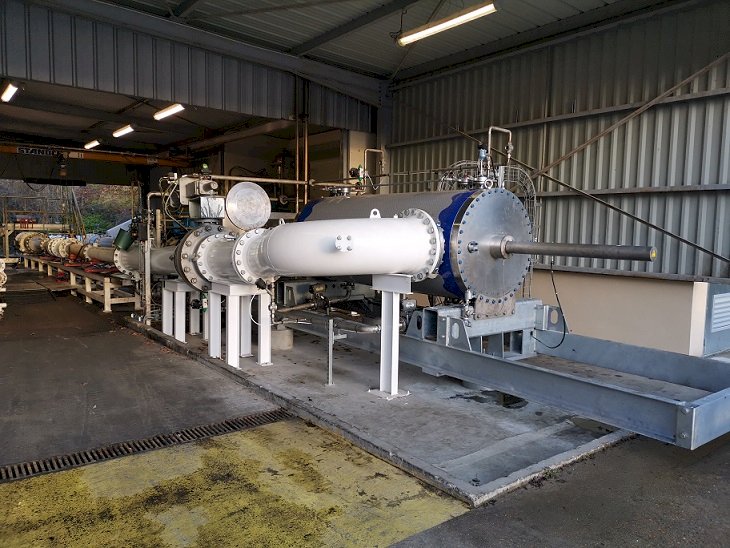 Faure Herman is pleased to announce a recent improvement to our facilities.
As part of the process of developing our new "in-line custody transfer" liquid ultrasonic flowmeter for high flowrates and high viscosity fluids, Faure Herman took the opportunity to upgrade our calibration capabilities.
Incorporating the FMD 200 small volume prover increased our maximum calibration flowrate by 33%. The Faure Herman facility now provides the greatest range of flowrates and viscosity fluids available for calibration the world with a maximum flowrate of 4500 m³/h @low viscosities and 4000 m³/h @ 500 cSt. Our previous calibration loop (HP3000) was limited to a maximum flowrate of 3000 m³/hr @ low viscosities and 2000 m³/hr for high viscosity fluids.
| | |
| --- | --- |
| Previous High Flow Prover | Current High Flow Prover |
| HP3000 | HP4500 |
| | |
New calibration loop HP4500:
Majors Improvements : Uncertainty improvement on reference volume:
New piston prover Flow MD 200 (premier manufacturer of compact provers)
530 liters instead 400 liters: more pulses per prove pass.
4th generation design with clutch/belt compared to 1st generation nitrogen & hydraulic systems
Smoother calibrations with fewer flow peaks (UFM/Coriolis direct calibrations due to 2 different volumes)
Easier/Quicker maintenance
More repeatable measurements achieved faster (old prover needed a minimum of 3 passes for one prove run compared to the new Flow MD which required only 1 pass to achieve repeatability)
Flow improvement: Modification of circulation pump:
Same pump body (Atex compliant), replacement of the rotor with a bigger diameter.
New motor (630 KW instead 300)
New frequency drive controler for precise flow regulation
Ability to go up to 4500 m³/hr on light fluids and 4000 m³/hr on heavier fluids (500 cSt)
Temperature control improvement: Temperature regulation:
System without pressure drop for the main loop
580 KW cooling system chiller generates 6°C cool water
Results in better productivity (no need to wait the natural cooling of fluids after calibrations)
(Temperature increased up to 1,5°C/min with the previous installation)
Energy production/management
New High voltage cells
New power transformer (1150 KVA instead 1000)
Energy management controlled by PLC

Added possibility to block portions of the facility (Ex. benches 230 and 1000 m³/h) to avoid overloading. Operating at maximum flow @ maximum viscosity consumes 90% of the Factory's' total capability.
Calibration fluids storage :
Increase capacity of underground storage tanks from 12 m³ to 20m³ on the 3 most used actual hydrocarbon fluids (Gasoline, Gasoil and a light oil) to allow continuous operation with the same fluid on the 3 calibration loops
Miscellaneous Improvements:
Added in-line filtration of 3 mm
18" Master meter run is now equipped with a CPA65E flow conditioner
In addition to now being even being better equipped to serve its customers on complex applications, with these improvements FAURE HERMAN has seriously tackled the development of its new generation of liquid in-line custody transfer ultrasonic flowmeters after completing our range of applications with clamp-on ultrasonic solutions.